BECOME A BETTER VOICEOVER ARTIST
WITH THE COMPLETE VOICEOVER CAREER PLATFORM
SCROLL DOWN TO LEARN MORE
Become A Better Voiceover Artist
With The Complete Voiceover
Career Platform
Since 2008 We've Helped Over 55,000 Voiceovers
From beginner to intermediate to advanced, we have 17 carefully crafted voiceover courses so you can specialise in the voiceover style you love. Each course is made up of multi-part modules that are hosted by industry experts walking you through the art of voiceover one step at a time.
All of our training is certificated and suited for all skill levels, whether you're a beginner, intermediate or advanced voiceover.
There's always something to learn, always a way to get better.
Beginner, gaming, audiobooks, home studio, singing, intermediate - we have a course for it, hosted by an expert, to make you an expert.
✓   17 certificated voiceover courses and quizzes
✓   Learn at your own pace and in your free time
✓   Hosted by experts active in the industry
CERTIFICATE UPON COMPLETION?
Absolutely!
(or just keep scrolling!)
(or just keep scrolling!)
Every week multi-award winning Voiceover Toby Ricketts, our mentors and special guests host webinars tackling a unique aspect of voiceover. We hold Q&As, editing tutorials, roundtables and inspiring talks to give you the confidence and skills you need to keep voicing.
As a member, you have live access to every webinar we host and hundreds of hours of previous webinars held in our webinar library.
✓   Weekly webinars
✓   Learn at your own pace and in your free time
✓   Every kind of webinar - Voiceover, Technical, Business, Roundtable, Expert Q&A with special guests
NEW WEBINARS
4 - 5 Every Month
ACCESSIBILITY
Anytime You Need
(or just keep scrolling!)
As an online mentor, we can give you training round the clock.
You will enjoy unlimited online access to our panel of professional working mentors who can provide you with ongoing support and training. Whenever you have a question or need advice, our forums are open for you.
You can chat with thousands of fellow voiceover artists, learn the latest voiceover tips and have 1-2-1 talks with our mentors.
You can even send in your demo reels to our mentors, who will get back to you with honest and straight advice, so you know exactly where you need to improve.
✓   1000s of voiceover artists
✓   1-2-1 mentoring
✓   Demo reel feedback and voiceover help
OPEN HOURS
24/7, 365 days
(or just keep scrolling!)
(or just keep scrolling!)
Weekly Live Mentoring Sessions
You know what's better than writing to our mentors?
Talking to them face-to-face!
Every week, we host a live mentoring session. You can join us for a new session hosted by one of our mentors each week. This time is for you to ask our mentors your questions, practice with them, receive feedback and have a place to gain practical and honest advice on the voiceover problems that you want solutions to.
✓   4 mentors on hand for you
✓   Voiceover, Direction, Home Studio and Business problems all solved
✓   All sessions available to watch back
PLAYBACK
Library of All Sessions
(or just keep scrolling!)
The Tools To Manage Your VO Career
Education is only one part of your voiceover training. You also need the tools to monitor your progress, keep track of your clients and get your voice out there to casting agents.
That's why your membership also includes:
Voiceover CRM - Manage and invoice your clients
Job Listings - Find work from across the industry
Career Planner - See where you need to grow
Career Profile Website - Get discovered by agents and casters
Scripts and Contracts - To practice skills and protect your business
One membership gives you an entire suite of tools to build your voiceover business.
✓   Tools to manage every area of your voiceover business
✓   Learn, develop, build a business with our tools
✓   Constantly updated and refined for your needs
LIVE HELP AND TUTORIALS
Yes
(or just keep scrolling!)
Socials, Events & Workshops
Voiceover can be a solitary business, so that's why we always make sure that we try to give our members a place to socialise and learn outside of the internet.
Networking and being social with our wonderful community is extremely important to being a well rounded and happy voiceover artist.
As a GFTB member, you get free tickets to our social events and discounts to all our workshops and special events. We just want to keep giving you more online and off!
✓  Free tickets to every social event we host
✓  Access to all GFTB workshops
✓  4 - 5 social events every year
NETWORKING
Free GFTB Social Tickets
(or just keep scrolling!)
We Want To Give You More Than A Voiceover Course,
We Want To Give You A Voiceover Career
17 Voiceover Courses Hosted By Industry Experts
Voiceover For Beginners
with Sarah McLeod and Toby Ricketts
Learn How To Voice Audiobooks
with Peter Kenny
Start Your Voiceover Business
with Hugh Edwards and Gary Fox
How To Get Cast For Voiceover Jobs
with Hugh Edwards
How To Voice For Commercials
with Peter Dickson
Becoming A Gaming Voice Actor
with Peter Dickson and Hugh Edwards
ALL 17 COURSES + 100s OF WEBINARS
ALL FREE FOR MEMBERS
AVAILABLE ANYTIME
The Tools To Keep Building Your Career
Becoming a great voiceover artist isn't just about learning, you also need the right tools for the job. You can be the best builder in the world, but if you don't have your hammer and drill, then nothing's going to get done.
Here's What The Internet Says About Us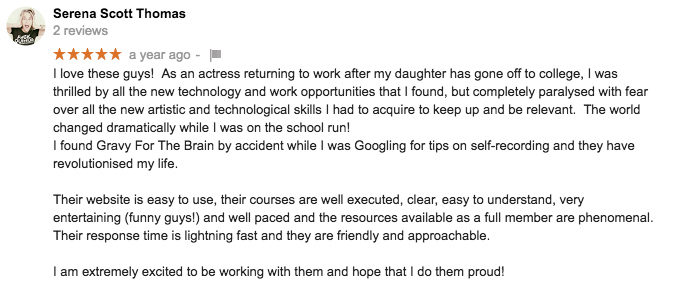 Your Gravy For The Brain Membership
✓ 17 full voiceover courses
✓ Any stage development - training suited to Beginners, Intermediate, Advanced
✓ Weekly webinars and hundreds of webinars already covering every aspect of voiceover
✓ Full CRM tools to manage your budding voiceover business
✓ Mentoring sessions & forums to get the straight answers you want
✓ 100% support in becoming a working, professional voiceover artist
✓ Everything in one, for one price
✓ No more spending hundreds to learn just one-hundredth of voiceover
You get everything for just $69 a month
Plus Bonuses!

You can cancel at any time, with no hidden fees.
It's all gravy!
© Copyright 2023 Gravy For The Brain Ltd · All Rights Reserved ·